MULTI VICKERS HARDNESS TESTER
FLV-AR Series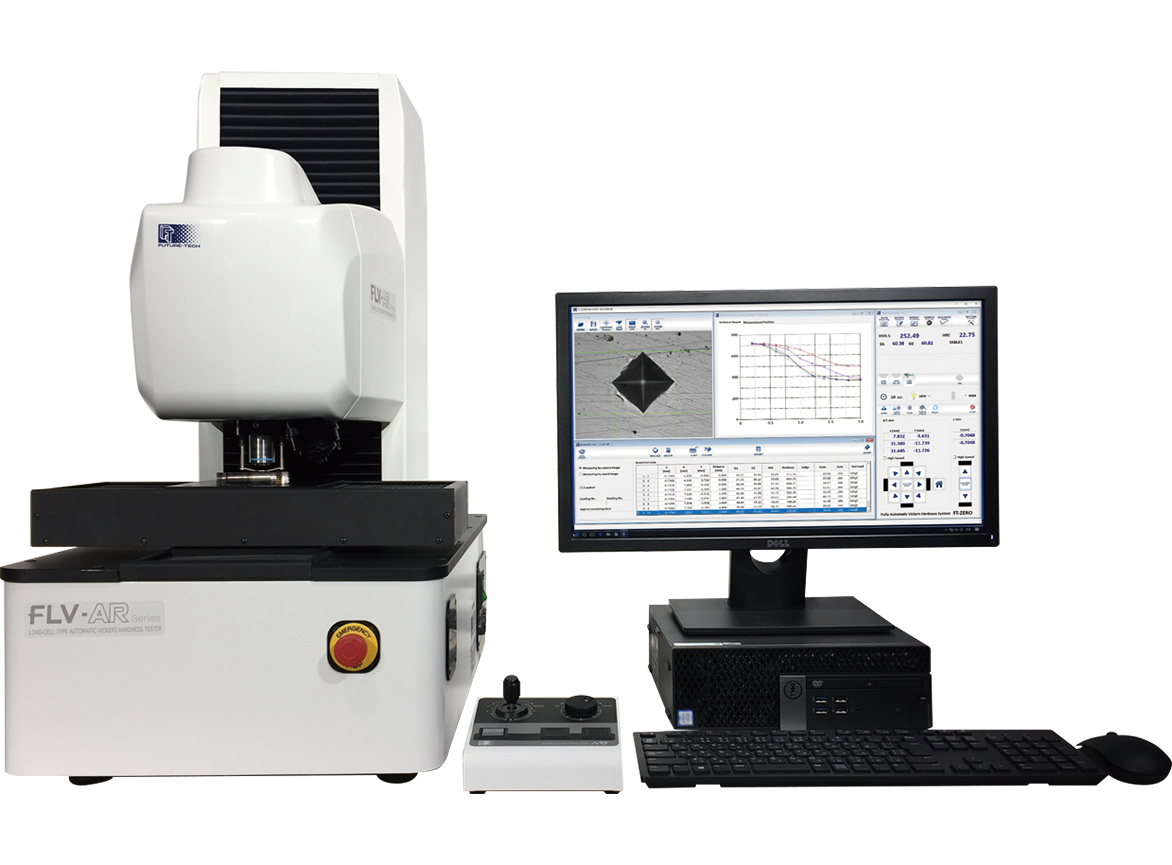 Fully-Automatic Microhardness /
Vickers Hardness Testing System has been evolved!!
Load range and test method
MODEL LINEUP
FLV-10AR

FLV-10ARS-F

FLV-50AR

FLV-50ARS-F
OUTSTANDING FEATURES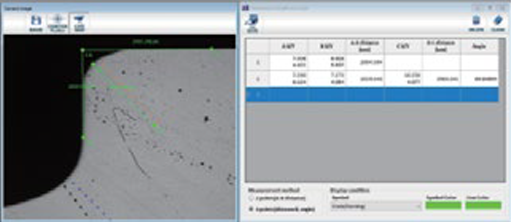 DISTANCE &ANGLE MEASUREMENT FUNCTION
Only click between two points can measure the distance and click three points can measure the angle easy.
(ARS・ARS-F)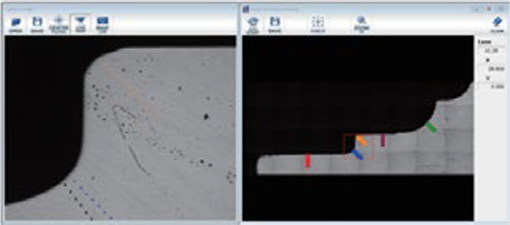 IMAGE OF PROFILING FUNCTION
The original position set is very simple by this function to recognize a shape of sample automatically.
(ARS・ARS-F)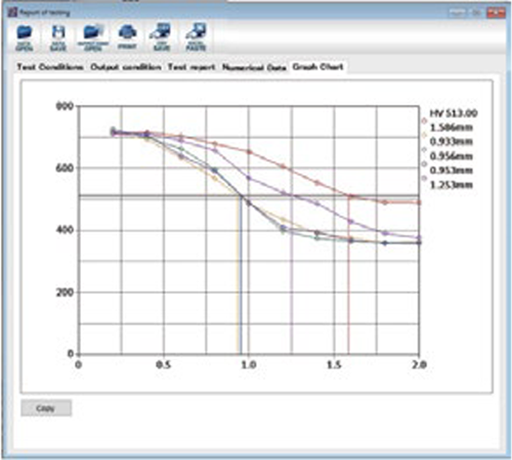 REPORT GRAPH CHART
Measurement data can save it in CSV form and transfer it to an original report.(Common to each model)
LOAD-CELL TYPE LOADING MECHANISM

15 steps test load and additional test load can be optionally set by "unit 10g".
There are 2 models. 10gf ~ 10kg(FLV10)and 50gf ~ 50kg(FLV50)

LOAD APPLY MECHANISM BY ELEVATING TYPE HEAD

Large heavy sample and multiple samples can be set at once.
・Work table doesn't require a hole for elevation screw and do not need to choose the place to install the tester.

HIGH RESOLUTION CAMERA

Equipped with a 1.3M pixel high resolution digital camera.

SAMPLE SURFACE INCLINATION/SLOPE CORRECTION FUNCTION

Z axis shall be controlled along with surface inclination by selecting 3 positions'angle setting.
This function is to improve the accuracy of load apply and measurement position. Moreover to shorten the auto focus time, and prevent accidental contact of sample and lens/indenter. (Built- in safety device).

MEASUREMENT IMAGE SAVING FUNCTION

Measured indentation image can be checked quickly. Easily and quickly edit the data by re-measuring the saved image.

LARGE MOTORIZED XY STAGE

Built-in large stage.
It can be prevented the inclination of stage which shall be created by large heavy sample, and performs highly accurate load apply. It is also quiet.
It is possible to move the stage to the center by double clicking and move the stage finely by dragging.
Easy to align the sample's original position and it can drastically shorten the setting time.

VARIOUS MEASURING PATTERN

Fully automated test cycle (indent, measuring, recoding data) by selecting measuring pattern.
Random measuring combined with sample profiling function, and measuring function which traces edge of sample as standard feature.

FUNCTION WHICH TRACES EDGE OF SAMPLE AS STANDARD FEATURE

Straight・Zigzag・Circle・Arc・Line Set・Random・Matrix・Teaching etc…
We will meet users' needs.

IMAGE PROCESSING SOFTWARE

Capability of reading unclear indents on un-mirror surface has been improved by more advanced image processing software.

VARIOUS DATA OUTPUT FORMAT AND STATISTICAL PROCESSING

For the measuring of carburizing / induction hardening, the selected hardness case depth shall be displayed and recorded on the chart once the multiple measuring is completed.
Multiple measuring data, Hardness chart, Case depth, Max. value, Min. value, Mean value, Dispersion, Standard deviation, OK-NG criteria, Conversion data etc… various data output shall be available.
Display and output of color profile picture linked with hardness values are standard function.
Excel data transfer function. Test result shall be exported to the original report Form.
SPECIFICATIONS
MODEL
FLV-10AR
FLV-10ARS-F
FLV-50AR
FLV-50ARS-F
LOADING SYSTEM
0.01~10kg
0.05~50kg
Test Load : Automatic Direct Loading System with Load-Cell closed-loop feedback
INDENTER
For Vickers Test (HV) : 1pc
For Knoop Test (HK) and Brinell Test (HBW) : Tungsten Ball φ1mm、 φ2.5mm (OPTION)
MAX. DEPTH OF SPECIMEN
180mm
DIMENSIONS
H720 × W415 × D650 mm
H820 × W415 × D650 mm
WEIGHT
Approx.115kg
Approx.120kg
POWER SUPPLY
1P AC100 ~ 230V(50/60Hz)
Please see the catalog for details of the specifications.