MICROHARDNESS TESTER
FM-810/FM-310/FM-110Series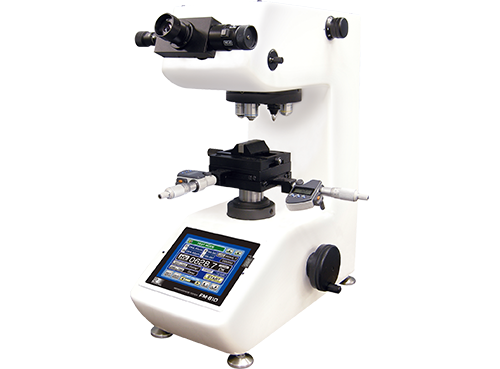 Lab-friendly functions make FM Series Microhardness Testers ideal for materials labs.
Load range and test method
OUTSTANDING FEATURES
USB port output
Equipped with the cylindrical/spherical offset function and the specimen thickness calculation function.
ADVANCED COLOR LCD TOUCH PANEL OPERATION AND DISPLAY

Color LCD touch panel/display coordinated with highly integrated PC board.
Measuring procedures, conditions and data are displayed clearly. (FM-810 Series)

BRINELL TESTING

Accurate light load Brinell Testing is available as a standard function.
Necessary additional optional item "Ball Indenter φ1mm". (FM-810 Series)

FRACTURE TOUGHNESS TESTING, Kc

Kc value can be measured as a standard function according to JIS R1607/IF Method.
Together with the value of Micro Vickers and Knoop,
it is very effective to evaluate the quality of new material. (FM-810 Series)

CLEAR VIEW AND EASY MEASURING

The changeable aperture diaphragm and field aperture with a newly developed light source mechanism provides more resolution at both high and low magnifications.
Easily changeable color filter provides more resolution. (All Series)

A VARIETY OF SELECTABLE LOADS

Type of test load is selectable.
You can select from an abundance of loads and have own load combination(Option/Negotiable)

X-Y COORDINATE DISPLAY

Stage coordinate is indicated on the display in a link operation with the digital microhead (option).

4 OBJECT LENSES (OPTIONAL)

The new turret mechanism enables to observe wide specimen area with up to 4 object lenses.
Various magnifications easily available by rotating the correct objective into position.
Placement of an indentation and its reading is more accurate and repeatable by choice of proper objective.(FM-810 Series)

2 INDENTERS FOR HV/HK MEASUREMENTS (OPTIONAL)

The new turret mechanism enables to adapt 2 indenters simultaneously.
It allows Vickers and Knoop tests without replacing the indenter. (FM-810 Series)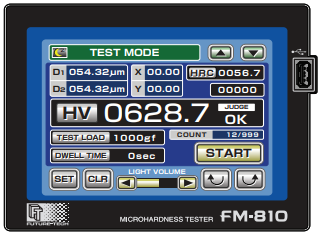 FM-810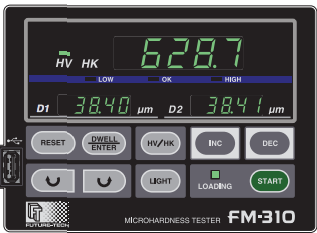 FM-310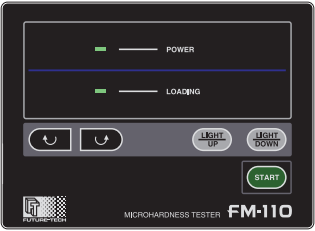 FM-110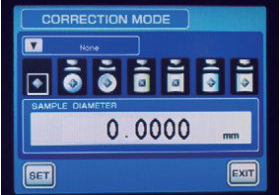 CYLINDRICAL/SPHERICAL OFFSET
SPECIMEN THICKNESS CALCULATION
HARDENED LAYER DEPTH CALCULATION
SPECIFICATIONS
MODEL
FM-110e
FM-110
FM-310e
FM-310
FM-810e
FM-810
LOADING MECHANISM
Automatic Load and Release Method
LOAD APPLYING SPEED
60μm / sec
DIAMOND INDENTER
Standard
Vickers Indenter (HV)
Option
-
Knoop Indenter (HK) / Two Indenters (HV+HK) are available on the special Dual Indenter Turret simultaneously
OBJECT LENS
Standard
2 Lenses ( X 50 & X 10)
Option
Max. 3 Lenses
( X 50 & X 10 plus 1 Lenses)
Max. 4 Lenses
( X 50 & X 10 plus 2 Lenses)
EYEPIECE
X10
LIGHT SOURCE
LED
DIMENSIONS
W186 x D450 x H504mm
WEIGHT
Approx. 40 kg (Including Standard Accessories)
POWER SUPPLY
Japan : Single phase AC 100V 50/ 60Hz
Overseas : Single phase AC100~240V 50/ 60Hz(Should be specified before shipment)
Please see the catalog for details of the specifications.